Yangon
Shwedagon Pagoda
I'd seen quite a lot of temples by this part of my trip, most notably I'd just come from Bangkok where I saw
The Grand Palace
which is nothing short of spectacular, but Shwedagon Pagoda still took my breath away. It was the most amazing and unexpected temple complex I've ever seen. You have to get a lift (elevator) up to the temple and go across a walk way and then suddenly in front of you this huge temple complex opens up. And I mean huge. There are statues and structures everywhere. And they're all sparkly. It is amazing and you can easily spend hours there.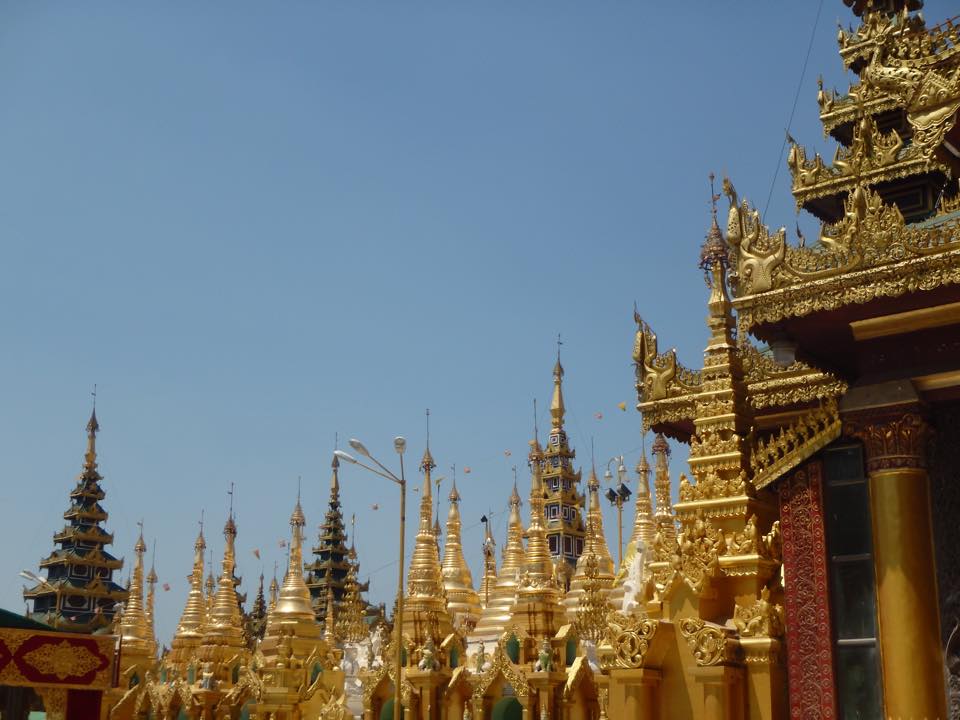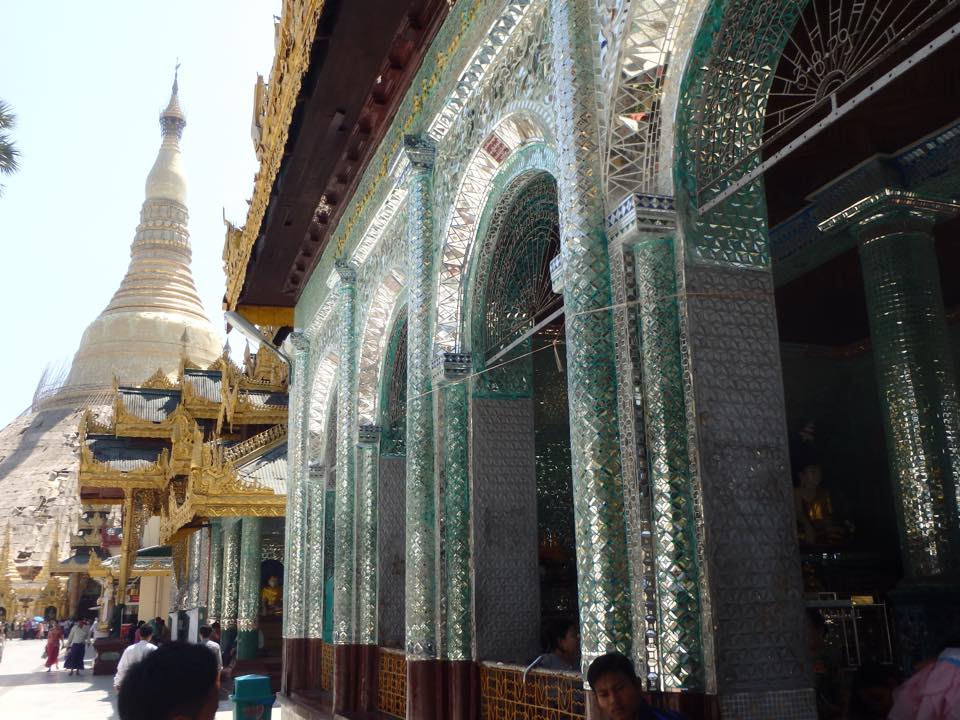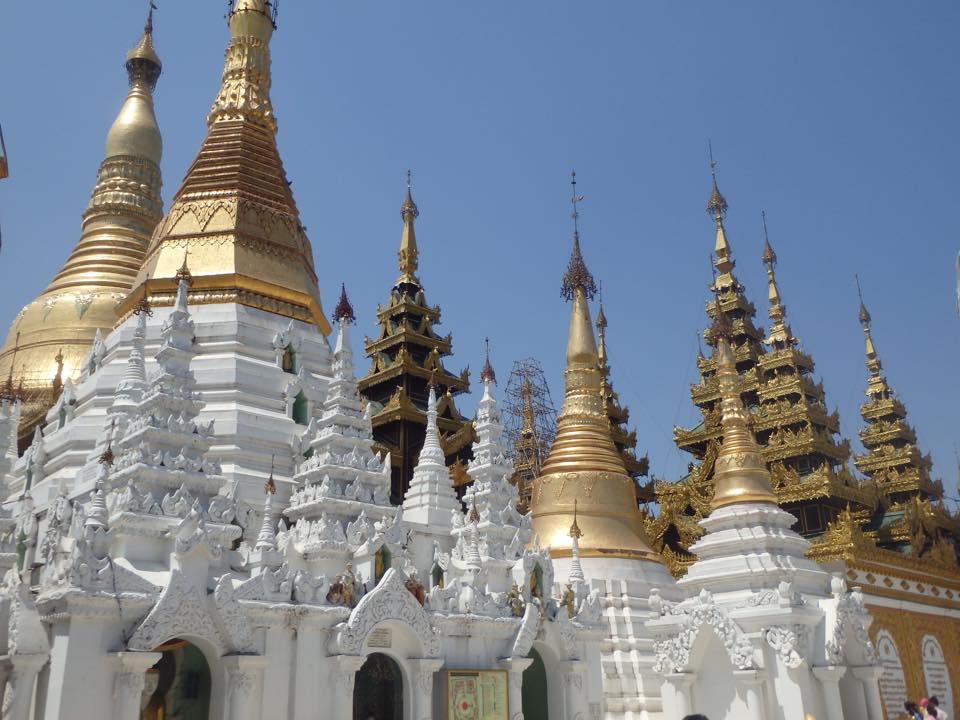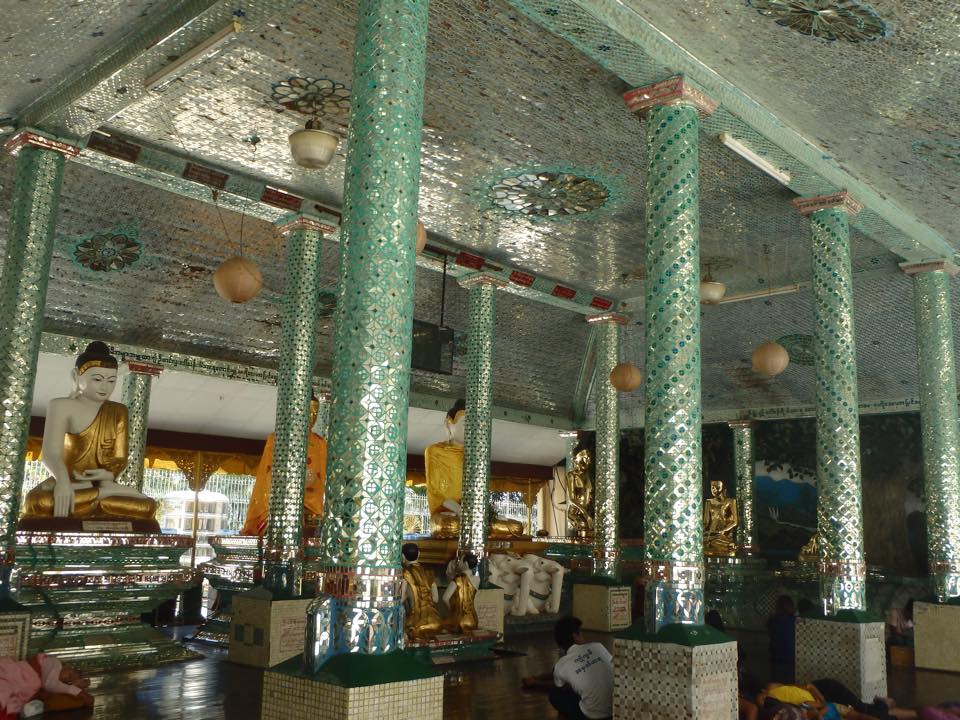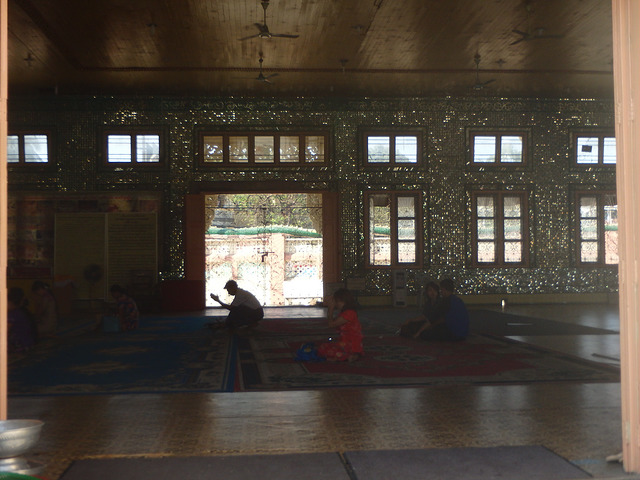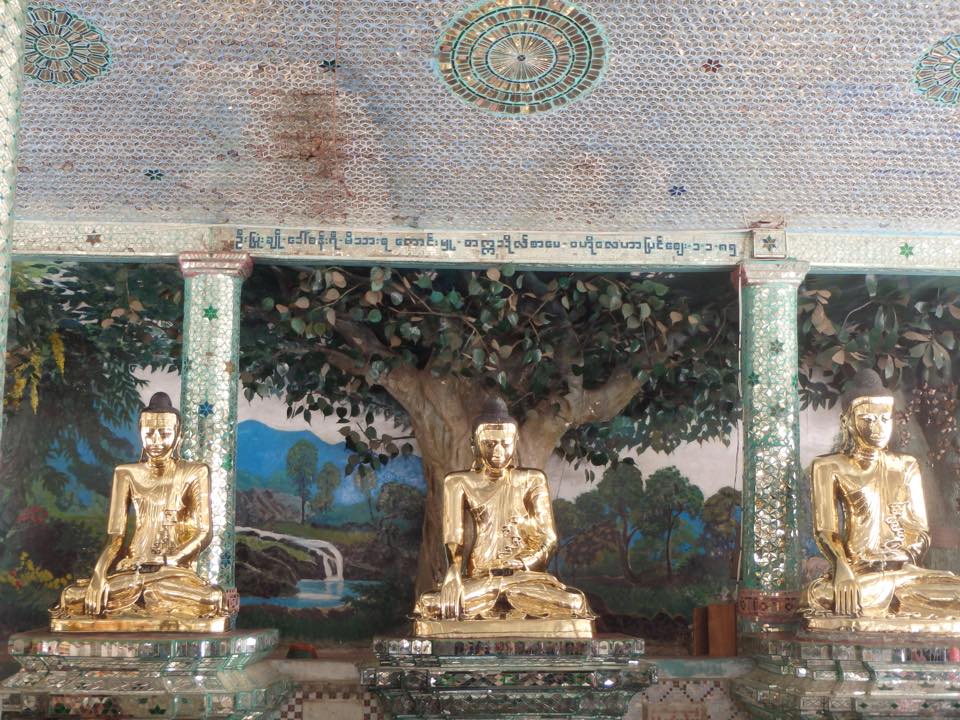 Make sure you see Shwedagon Pagoda whilst in Yangon if nothing else. I went on a Sunday and so for once rather than a temple being filled with lots of tourists it was actually packed with locals who go there with their families for the day on weekends, taking picnics to sit in the grounds with.
Chaukhtatgyi Buddha Temple aka. The Reclining Buddha Yangon
I wasn't so sure about going to see this since it is just the statue there, with nothing else to look around but I went after Shwedagon Pagoda as it's not far from there so figured I might as well. It is pretty impressive too, the sheer size of it.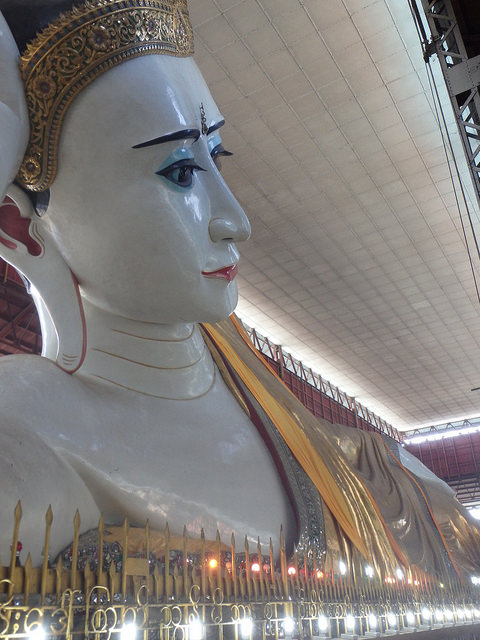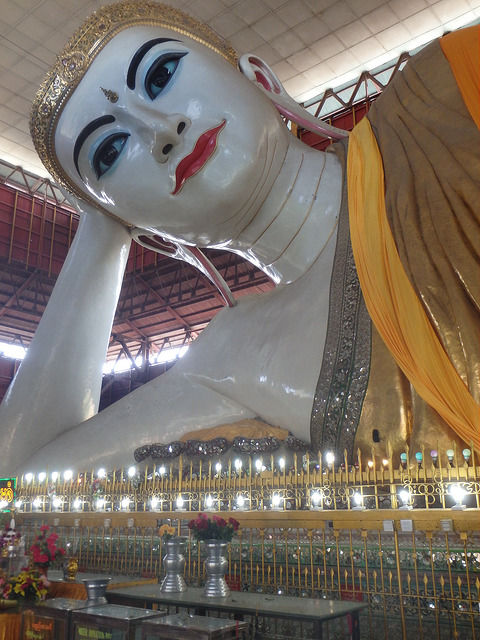 Sule Pagoda
This is a pagoda on a roundabout closer to the center of town. I was some what underwhelmed by it. In fact, I was so underwhelmed I don't even have any photos of it to show you. If you're strapped for time just go see Shwedagon Pagoda.
Botataung Pagoda
This Pagoda is situatied down by the edge of the river. Nothing could beat Shwedagon Pagoda but it's well worth a trip to this Pagoda too if you have the time. It's a really interesting place to walk around.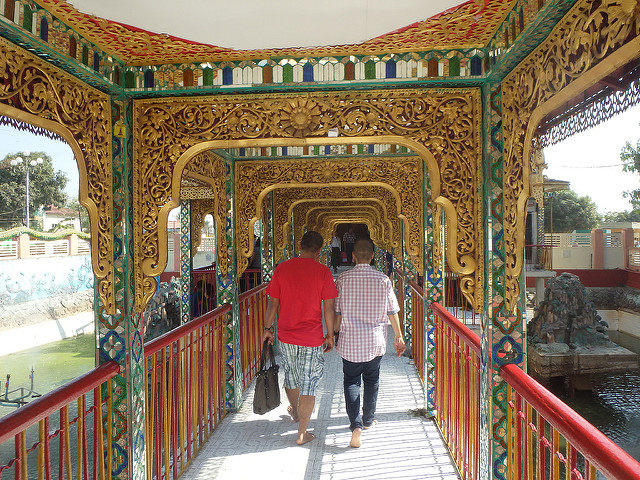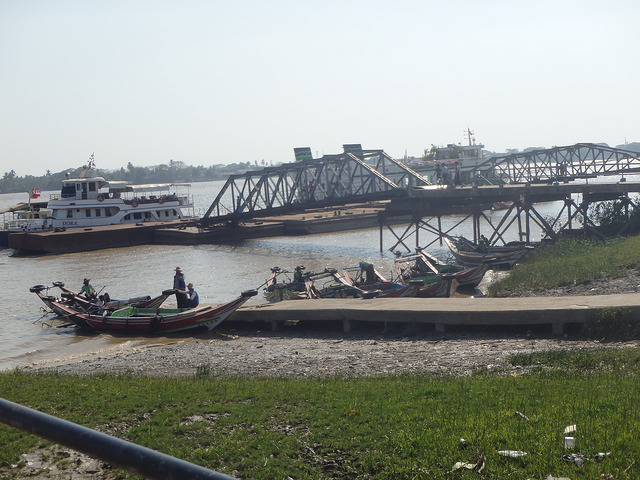 The river by Botataung Pagoda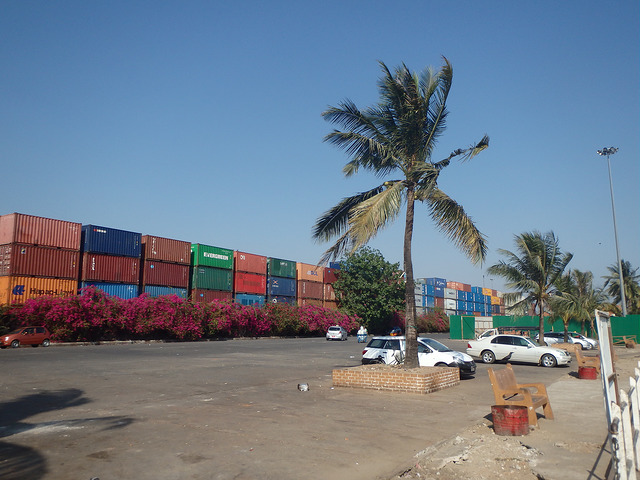 Where to stay in Yangon
I stayed at
Sleep Inn hostel
which was nice enough and reasonably centrally located. I had also looked at
Backpacker Myanmar
which has pod beds and looked fancier but I decided against it in the end since it cost more and I knew there would have to be some more expensive night's accommodation after Yangon where hostel options are limited so figured it probably wasn't the best timing to treat myself.
How Long to Spend in Yangon
I explored all of the above in one day. It's a big city though and there are a lot of other things to explore so give yourself a couple of days to really look around. I hear there are some slightly strange but fun nights out there too.
Moving On: How to get from Yangon to Bagan
I got a bus to from Yangon to
Bagan
. If I'd listened to my hostel, who told me the busses were all booked up, I'd have had to spend another night in Yangon before moving on however if you walk down to the football stadium (it's just past the train station and easy to find on a map) you can book a ticket there directly yourself. I went for the VIP coach which is seriously one of the most comfortable busses I've ever been on. The seats are big and padded, there's ample leg room, blankets, pillows and a lot of the companies even give you snacks. It's an overnight bus ride and is supposed to take about 12 hours but we arrived much earlier than scheduled. I slept like a baby on that journey.
WARNING: The person I booked the bus through said they'd pick me up from my hostel and take me to the bus terminal. I waited longer than I probably should have done for them to arrive but they never showed. I got another taxi but by that point it was so late I almost missed my bus (also there are multiple bus stations in Yangon so make sure the person you buy your bus ticket from is really clear on where you will be going from, in case they don't show up for you too). I made it in the end but only just and it was a VERY stressful taxi ride. If you accept the pick up from your hostel through the bus company, try to organise it for as early as possible so if they don't show you still have a good amount of time to make it to the bus terminal.
« Back to Places
On to the Blog »
---
Get Your Essential Travel Gear