Learning to Drive a Scooter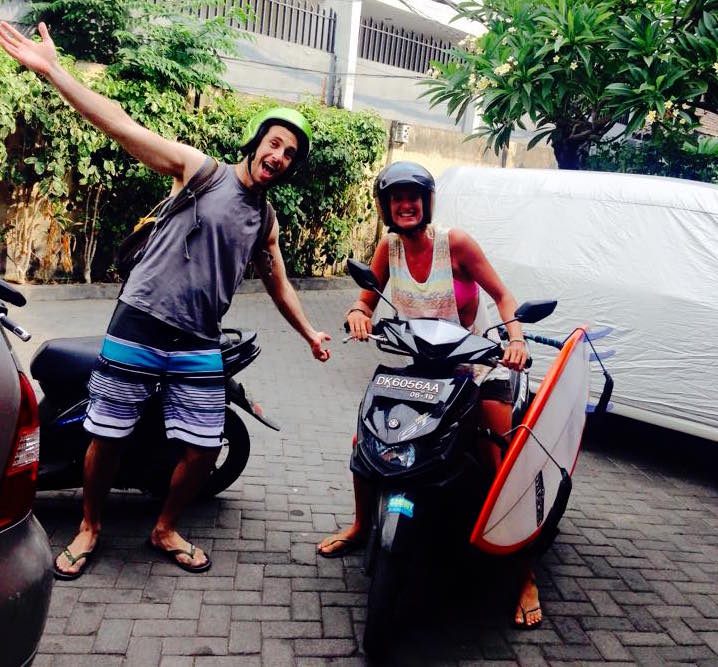 If you plan on travelling in Asia learning to drive a scooter before you leave home will be incredibly useful. Scooters are dangerous and not something to be messed about with, especially in some of the crazy traffic in Asia, so make sure you invest the time in ensuring you're comfortable driving one before you hit the open roads.

Whether you're learning to ride a scooter at home or while already on the road here are my top tips from having started off too terrified to learn for months, looking on in gaping awe as I saw other people bombing around on them like it was nothing, to now really enjoying driving a scooter, even in crazy traffic in Asia.


Wear a helmet
Seriously. It doesn't matter where you're driving a scooter or how deserted the area is you never know what might happen. The closest I've ever been to a bad crash on my scooter wasn't because of other bikes or cars it was because of a cow that sauntered out into the road in the dark. The street could be deserted and you still might crash so before anything else put a helmnt on. I'm pointing this out because actually, as embarrassing as this is to admit, when I first started riding on the back of friends scooters it didn't even occur to me to wear a helmet. I didn't register how dangerous they are. The only time I'd put one on was if we were afraid the police would be around and stop us for it. The reason to wear a helmet is not because of any laws saying you should. It's because if you come off a scooter, even at not that fast a speed, the risk of injuring yourself is extremely high. And if you're not wearing a helmet the risk of fatally injuring yourself, rather than just being a bit banged up for a while, goes up astronomically. I hear of far too many serious injuries that could have been prevented by people wearing helmets where I am in Asia at the moment. Wear one.
Avoid sand and loose gravel like the plague
Sand and loose gravel make the tires on scooters skid out something crazy. Even if you know there is sand or gravel there and think you've got it, you probably don't. Go slow, really slow, and dangle your feet off the sides of the bike so you can steady yourself if needed.
Watch out for the accidental acceleration when breaking
The first time you find yourself going faster than intended on a scooter you'll slam down the breaks as hard as possible. But what you also might do, as I did and have watched countless others do, is accidentally accelerate at the same time. Be as carefully as you possibly can, that when you break your right hand doesn't also twist backwards accelerating the bike. Doing this whilst breaking is what causes people to go flying over the handlebars.
Potholes
If you're in a car and drive over a pothole it's no big deal. The car and its wheels are big enough to counteract the bump and carry on without any real issues. This is not the case on a scooter.

Go over a pothole hard and fast and the impact will judder all the way up through your bike and your bones. If you haven't braced your arms for the impact this will likely result in your handlebars turning and you potentially toppling off the bike. Even worse than this is that scooter tyres are much more delicate than car tyres and a single pothole can cause you to instantly get a flat tire. Flat tires are dangerous on bikes as they cause the bike to wobble around. You lose a huge amount of control. If you get a flat tyre drive extremely slowly and get to a repair shop as soon as possible.
Driving people on the back of your scooter
Driving a scooter is a bit like riding a bike. There is balance involved since it doesn't have the stability of two wheels either side. As a result driving someone on the back of your scooter is very different to just driving the scooter with yourself on it. Their additional weight can make it harder to turn corners and throw the balance of your scooter off depending on how they sit.

Make sure you are completely comfortable driving a scooter on your own before you offer to take anyone else on it. I've been driving a scooter for over a year now and am a very competent at driving yet I still avoid taking people on the back of mine where possible.
Dealing with batshit crazy traffic
Whilst the traffic can look scary (AF) in a lot of places it's actually not as bad as you would think.


Just an average day's traffic in Bali

In places where there is a high prevalence of scooters and a lot of traffic the way people drive is very different to back home. Everyone is much more aware of what everyone else on the road is doing. So much so you'll find once you start driving that you get the feeling that other drivers are aware of what you're going to do before you even do it. And people are more considerate in their driving. Instead of fighting to get through places and never giving way, where there are hordes of scooter drivers people give way a lot more. Driving scooter is dangerous and so a higher level of consideration and less dickhead drivers are present as a result.
Beeping your horn
If you are driving a scooter in Asia it's important to use your horn. When you first arrive in Asia it's overwhelmed how many horn beeps you hear even just whilst walking down the street. It makes it sound like everyone is angry and only adds to the impressions that the traffic is crazy. But that is not the case. A horm beep in Asia is not "Get out the way you idiot" like back home. It is instead how people say, in a friendly way "Hey, I'm here, watch out for me". If you are overtaking, going round blind corners or doing anything the bikes and cars around you may not be aware of just give your horn a little beep to warn others that you're there. It's friendly and considerate to do so, not rude. But since that's the case, don't beep the horn to tell someone to get out the way. That's just not how it works in Asia.
Learn the traffic laws – formal and otherwise
First up obviously make sure you know which side of the road you're supposed to drive on as it may be different to the one you're used to. There are also other formal traffic laws such as whether you can go through a red light if turning a certain way (a right-hand turn in the US), that's it's important to be aware of. But much more important than that are the informal traffic laws. The conventions that have been adopted in different countries that ensure the smooth and safe flow of traffic.

For example where I am at the moment if someone is going straight across a junction they put their hazard warning lights on so everyone around them knows what they're doing.

If you start driving in a country you're unfamiliar with pay special attention to how others are driving around you and what they do to negotiate different situations. If in doubt, follow a local.
As well as the above it would be remiss of me not to mention that:
To legally be able to drive in a lot of countries you need an international drivers license
Not all travel insurance covers driving motorbikes, make sure yours does and check whether you need a specific scooter/motorbike license from your home country for the cover to be valid



Got any other concerns about learning to drive a scooter? Let me know in the comments below and I'll do my best to answer them.





---

Get Your Essential Travel Gear