Sihanoukville & Koh Rong
Sihanoukville
Sihanoukville is full of backpackers as many people go there to spend a few days in the town and then head over to the island of Koh Rong. In fact, I only ended up going back to
Cambodia
the second time because I met so many other backpackers who told me about how amazing those two places were that I decided it was worth the 18 hours in busses to go in completely the other direction from the route I have been taking around South East Asia to get there.
Sihanoukville is full of beach parties, which you'd never realise on first arrival. If you just walk round the main streets of the town it's all seems pretty quiet. But head down to the beach at about 10pm and it will all be kicking off there. In fact the only night I got drunk in
Cambodia
was in Sihanoukville (and I was very drunk!)
Where to Stay in Sihanoukville
We stayed at
One Stop Hostel
because a lot of friends had recommended it. It's got a pool in the center of it, the rooms have good air con and the wi-fi is strong. It's also just off a roundabout, where on the other corner there is a great Pizza place and located close to the rest of the town.
A lot of people also stay in
Monkey Republic
and we tried to go on our way back from Koh Rong just to see something different but Monkey Republic didn't accept advance bookings at the time, seems they now do, and were full so we went back to
One Stop
, which was great anyway so it wasn't a problem that we couldn't switch.
Getting from Sihanoukville to Koh Rong
There are a lot of boats that go back and froth between the two so it's cheap and easy, just book at your hostel for the journey.
Koh Rong
Koh Rong has one of the most beautiful beaches I have ever seen in my life. The sand is crisp white and it makes a completely unique crunching sound as you walk on it. It just feels different to other sand. Waking up each morning in a hut on the beach, being able to wander down to the sea is amazing and you can have an incredibly calm and peaceful time there if that's what you're looking for.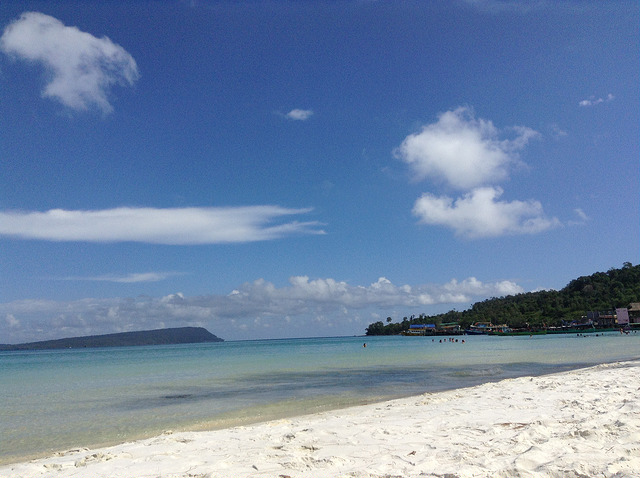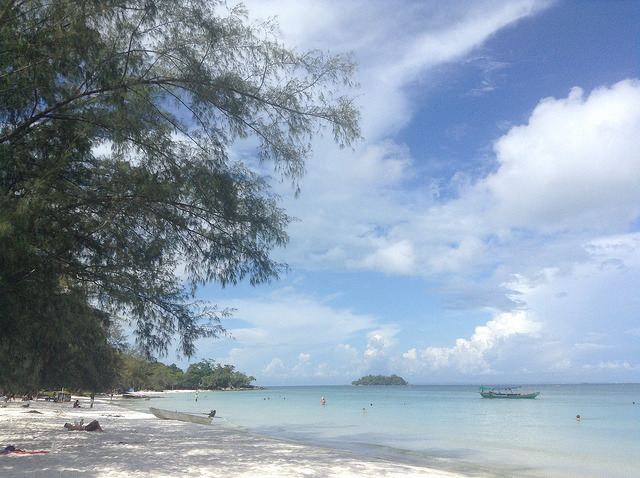 We didn't go out and party but there is a happening bar scene in the evenings too.
Day Trips from Koh Rong
We went on a snorkelling day trip from Koh Rong which we booked through the place we were staying. The snorkelling was average but one of the main draws of Koh Rong is the fact that at night the sea is lit up with glow plankton. I'd seen glow plankton for the first time when I went on a boat tip in Thailand off
Phi Phi
but it was NOTHING in comparison to the glow plankton in Koh Rong. The boat waits till it gets dark then you all jump off with your snorkels and it's like you have your very own private disco ball spiralling around you in the water.
Alternatively you could just wait till it's night time and wander into the sea yourself to see the amazing spectacle as the glow plankton fill every inch of it there.
WORTH NOTING: The locals will all try to teach you how to say "Cheers" in Cambodian because if you pronounce it even the slightest bit incorrectly what you actually end up saying "Fuck you". They're teaching you for their own entrainment value, not to help you out.
Where to stay in Koh Rong
We wanted to stay at the bungalows that are run by the Monkey Republic hostel in Sihanoukville so before we left for Koh Rong we went and booked a bungalow from Monkey Republic. We were really lucky and go the last room so book as soon as you get to Sihanoukville if that's where you want to stay. I wouldn't have stayed there if I wasn't travelleing with two friends from home for that part of the trip though as if you're on your own staying in one of the bungalows probably isn't the easiest way to meet people, you'd likely be better off in a hostel. I liked the bungalow and the bar they had attached to it but my friends, having just arrived in South East Asia and not having become as accustomed to the heat yet, struggled with it since there is just a fan and the rooms get WARM. If you can't sleep when too hot you're likely to have an uncomfrotable time on Koh Rong as I don't think anywhere there has air con.
How Long to Stay in Koh Rong/Sihanoukville
It's best to allow at least a night in Sihanoukville before heading to Koh Rong and one on your way back if not more depedning on how much you want to explore the actural area of Sihanoukville. I stayed on Koh Rong two nights but most people end up getting stuck there for a week or two they enjoy the atmosphere so much.
Getting from Koh Rong/Sihanoukville to Koh Kong
Having said there are lots of boats to and from Koh Rong and Sihanoukville when we tried to book our boat back to Sihanoukville we were told we couldn't get the slow boat for another day so we had to upgrade our tickets to take the fast boat. The price difference really isn't a lot though so if you end up having to do it it's not the end of the world. We booked our bus onto
Koh Kong
through our hostel in Sihanoukville and they picked us up from there in the morning. That bus did break down on us though. Whilst that's the one and only time this has happened to me in Cambodia I hear it happens a lot and waiting at the side of the road when the bus air con no longer works is an extremely uncomfortable experience especially if like me you were stupid and forgot to pee at the last rest stop and didn't bring enough snacks. When it does happen though, remember it's the journey that matters. Just read your book, chat to your friends and try to make the most of it.
Where next?
« Back to Places
On to the Blog »
---
Get Your Essential Travel Gear