What to Do in Luang Prabang
Waterfalls in Luang Prabang - Kuang Si Falls
It's a bit of a drive to get to the waterfalls outside Luang Prabang but it's a really impressive waterfall and loads of fun. It's so much fun because before you get to the main waterfall there are lots of other pools of water which you can swim in with rocks and trees to jump off.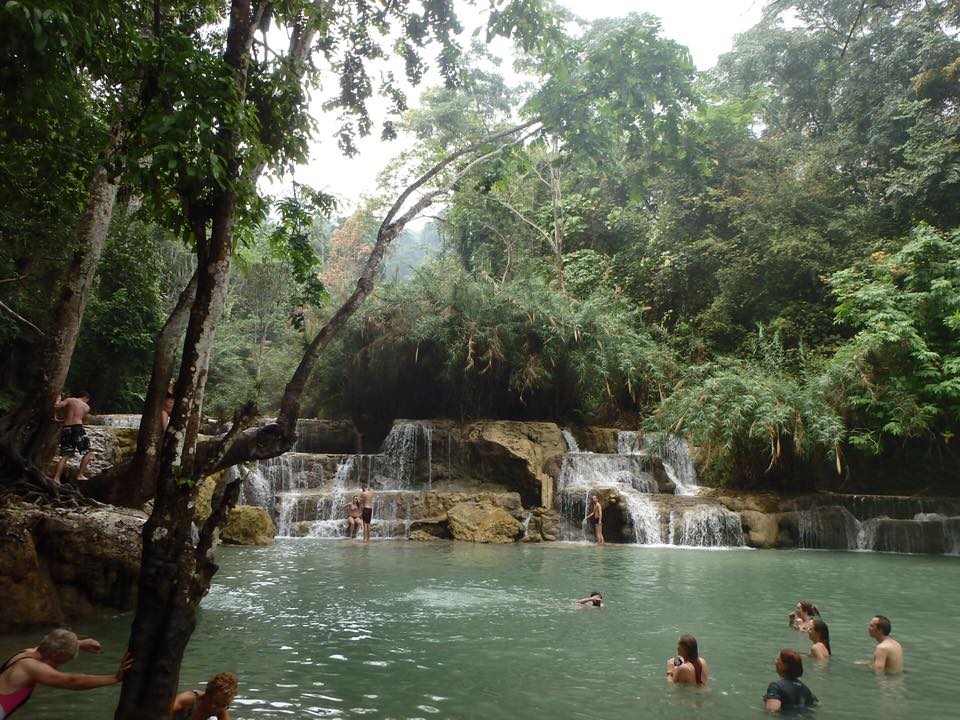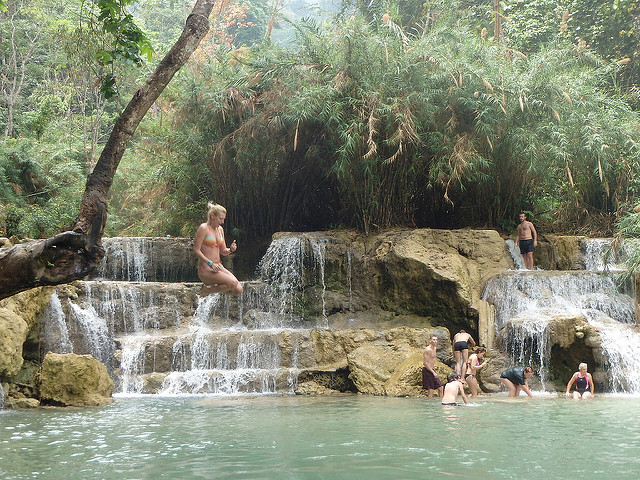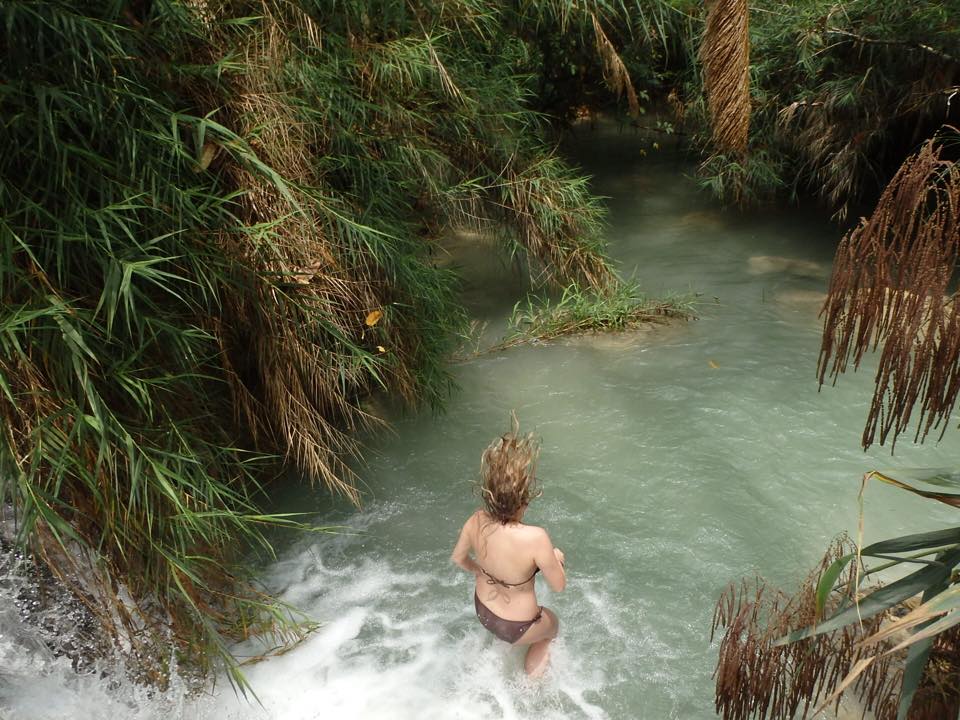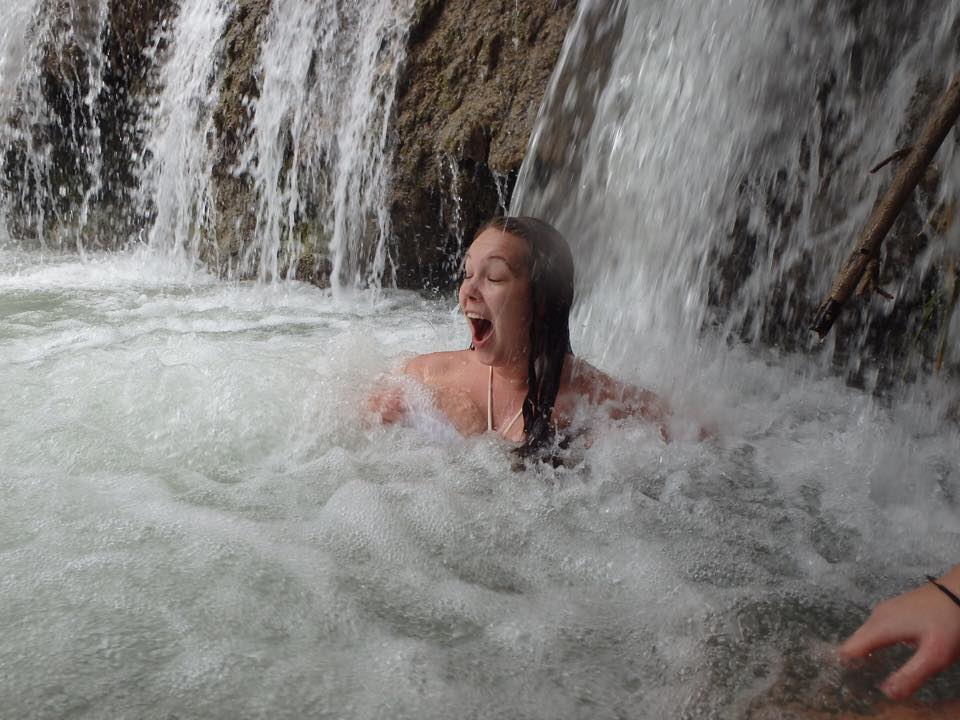 The main waterfall is huge and you can trek up the side of it and go all the way to the top for a pretty specutacular view. The trek up the side is slippery and a little bit hard going at times, on the way up and way down, so be careful if you do climb up.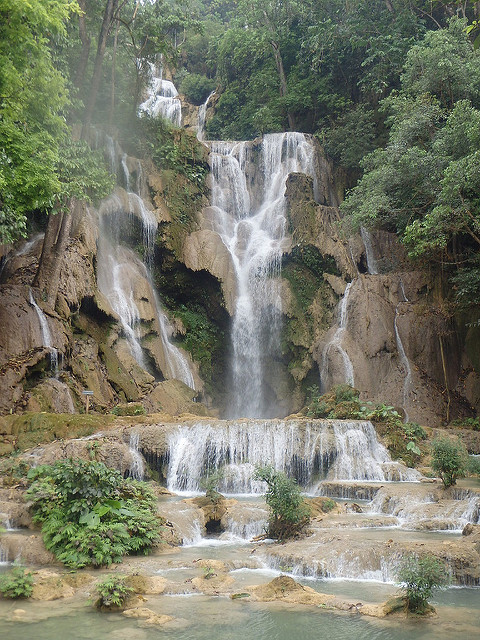 Where to go out in Luang Prabang
There are two places to go out in Luang Prabang. Really. It's the same two every night. Sure you can go for a drink somewhere else first but the only bars with more than a few people in will be the below. It's where everyone who is travelling through Laos goes.
Utopia
Utopia
is a cool bar with a bamboo platform with cushions to sit on outside as well as a busier inside area of the bar. Although it's really busy and everyone it's really drunk it's got a good atmosphere and still feels relaxed.
The Bowling Alley
No,
"The Bowling Alley"
is not the name of the bar. I am talking about the actual activity. The only place open after 11.30pm in Luang Prabang is a Tenpin bowling alley, no jokes. But that actually makes it really fun as that's where everyone goes once the bars in town, by which I mean Utopia, shut down. They serve beer at the bowling alley and it's just like one giant party there, but with bowling. Lots of really drunk bowling.
Where to stay in Luang Prabang
I stayed at
LPQ Backpackers Hostel
and really liked it. The dorms are clean, there's a good common area with a pool table and it's centrally located.
How long to stay in Luang Prabang
I stayed two nights which was enough time to see the waterfall and experience the bizarre night life there. It didn't give me enough time to see any of the other sights in the area though as I only had one full day so if you want to explore leave a bit more time.
Getting from Luang Prabang to Vang Vieng
I was going to get to a bus from Luang Prabang to
Vang Vieng
which can be booked easily from any of the hostels but two guys I met at my hostel, who were travelling on motorbikes, were going there the same day I planned to and had space for another person so I went with them in the end. The bus journey from Luang Prabang to
Vang Vieng
would take about 7 hours and will go up and down a lot of winding roads through mountians. The scenery is beautiful.
« Back to Places
On to the Blog »
---
Get Your Essential Travel Gear