Ko Lanta
If you've been partying hard on
Ko Phi Phi
, Ko Lanta is the perfect next stop. It will give you a chance to catch up on some much needed sleep and your liver the break it's probably screaming out for.
Island Tours and Snorkeling in Ko Lanta
There are a number of different snorkeling and island hopping day trips offered in Koh Lanta. It's one of the most popular things to do there, apart from just sitting and relaxing on the beach.
You"ll be picked up early form your hostel for the day trip and go round a number of different spots to snorkel and see other beaches during the day. The highlight is by far a cave they take you at Koh Mook. Our guide wasn't exactly the best at explaining what was going on so we all swam into this cave not really sure what was going/when we should turn around and go back. The cave goes all the way through to open up into a beautiful big lagoon through and it is completely worth the slight discomfort of swimming through the dark cave. Our return trip was worse actually as the cave had gotten a lot busier by then and most guides had the sensible idea of forming trains to help their customers make it out through the pitch black. Ours wasn't so smart so we formed our own train but it mean we weren't quite as organised in our path through the cave and so kept ending up in other people's chains. It's worth going on the tour just to see this cave. Even if you're fed up of snorkeling by this point I'd recommend going for the cave and to see the beautiful lagoon the otherside.
Night Life in Ko Lanta
Since Koh Lanta is a small sleepy island, there isn't a lot going on in the evening but there are some parties. They rotate round the different bars on different nights, much like in
Hikkaduwa in Sri Lanka
where on a set day of the week it will be one bar that has the night everyone goes to and another day another bar. If you go to any other bar but the one designated for that day of the week it will be dead.
We went to one such party but even though it was the designated night for that bar it really wasn't that lively a party. If you want to party, Ko Lanta is not the place for it. It's a place to chill out, enjoy the beaches, surrounding nature and maybe have a few beers in the evening at most.
Where to stay in Ko Lanta
I stayed at
Chill Out House
which I loved but I don't think it will be for everyone. The hostel has a very relaxed, homely kind of almost commune like feel to it with honours systems in pace for things like coffee. The atmosphere is great and it has a really large common area which is perfect for chilling out in during the day or for sitting and having a drink in when it turns into a bar in the evening. All the staff at the hostel are really friendly and are all fellow backpackers like you. They volunteer in exchange for free board (if that's something you're looking for it would really be worth checking this place out, the owner is lovely too).
The only reason I say it might not be for everyone is because it is essentially a giant tree house and the accommodation reflects that. Beds in the dorm rooms are mattresses on the floor with a mosquito net thrown over. There are no solid walls and the "windows" are constantly open since they are formed just from where the bamboo hasn't been put all the way up the wall. See the photo below.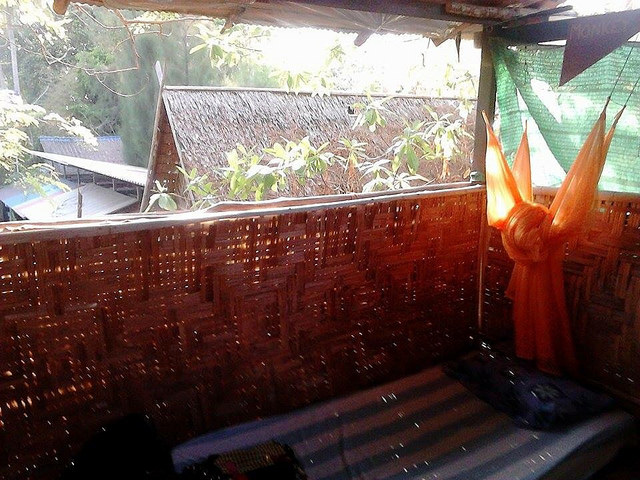 It's a really cute place but it may not be to everyone's taste since it is very basic and exposed to the elements. I even struggled a little bit to sleep properly on some of my nights there due to the heat and a thunderstorm which become pretty loud on the corrugated roof but I'd still stay again as I loved everything else about the hostel.
How Long to Spend in Ko Lanta
Two to Three nights is enough to feel like you've had enough time to explore the island and to do a boat trip however you may want to stay longer just to relax on the beach, do some yoga and lounge about in hammocks away from the crazy parties on islands like
Ko Phi Phi
.
Getting from Ko Lanta to Krabi
You can book a boat and bus ticket through your hostel or one of the many places on the beach for this. I booked through my hostel who do the journey via the car ferry. The bus therefore picks you up from your accommodation, you drive to the harbor to what looks essentially like a floating slab of concrete and then are ferried across still in the van. It's a really short crossing though so most of the time is spent in a coach on dry land anyway.
Where next?
« Back to Places
On to the Blog »
---
Get Your Essential Travel Gear