What to See in Colombo
I walked most of the city to explore it, starting from the train station. It's a long walk in the heat, and I was covered up head to toe since I'd just arrived from
India
and didn't know if it was appropriate/ok for me to show my shoulders or knees and when in doubt I always err on the side of caution (Ladies - the answer is yes, I think it would be ok however you would draw a lot of attention to yourself doing so therefore best to stay at least a little bit covered up). If you don't fancy the walk it would be cheap and easy to get an auto-rickshaw* between each of the locations below too.
*An auto-rickshaw is a taxi that's constructed out of a motorbike and carriage attached to the back providing space for passengers to sit in. In a lot of South-East Asia this is one of the most common and cheapest forms of transport although the name for these 3-wheeled taxis varies from tuk-tuk to auto to auto-rickshaw depending on the country you're in.
Colombo markets
There are a lot of market stalls by the train station but if you've been anywhere before this stop on your travels they won't be that exciting and you'll find much nicer stuff in the markets once you leave the city, especially in
Hikkaduwa
so you might want to give this one a miss.
Galle Face Beach Colombo
From the market I walked along the coast to Galle Face Beach, which, whilst just by a main road and not exactly beautfiul, was still enjoyable to walk along (and it provided a much needed breeze).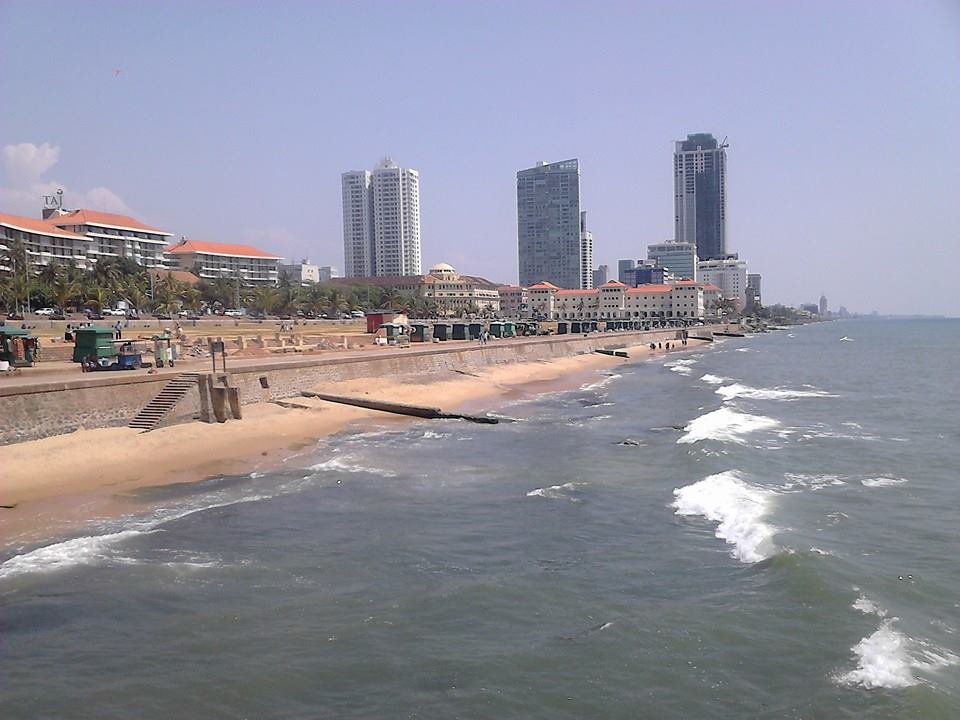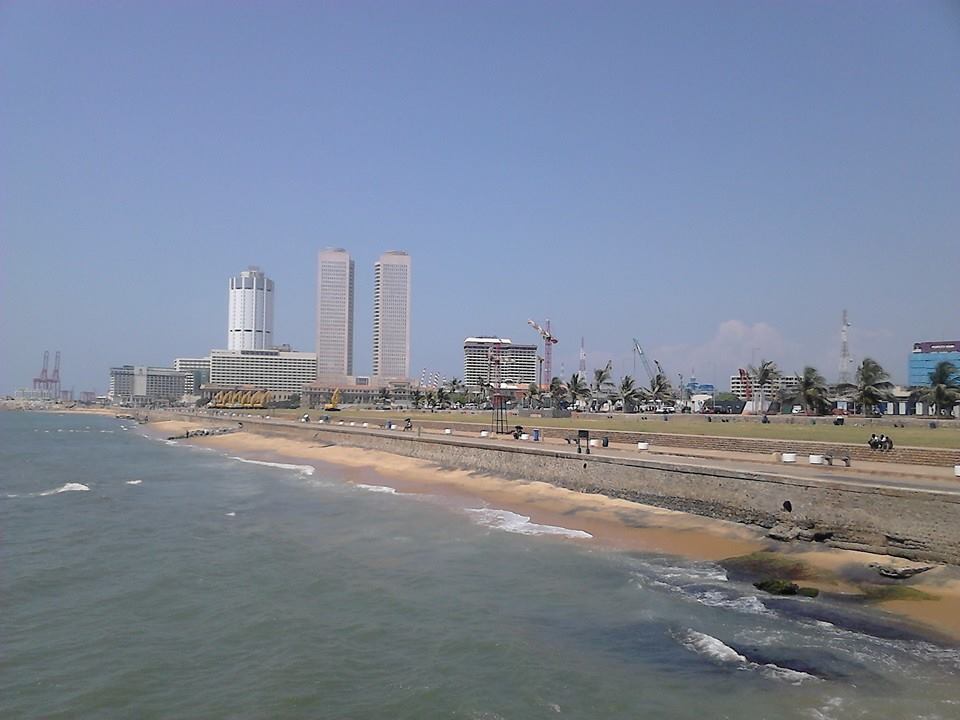 A lot of strangers stopped to talk to me as I walked (all men) but not in a threatening way, they just seemed kind of curious and intrigued by me. A number of my new found friends mentioned a Buddhist temple near by which is called Gangaramaya temple so I headed there.
Gangaramaya temple
The walk from the beach to the temple takes you past a beautiful lake (although my photo doesn't really do it justice).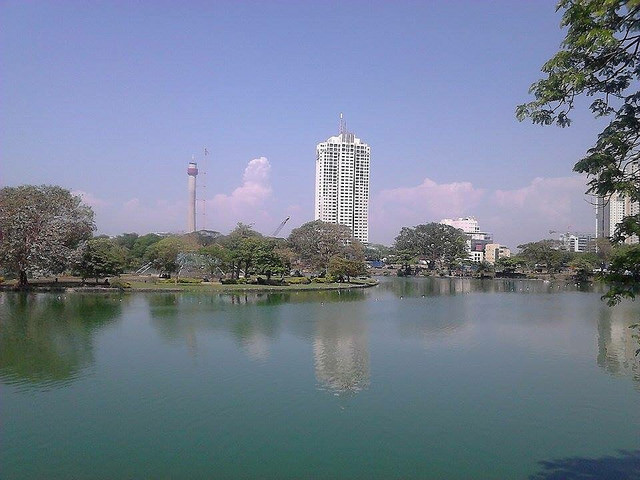 The temple is one of the coolest temples I have ever seen in my life. It's not that big but it's got so much crammed into some of the rooms, it's like the Santa's grotto of temples.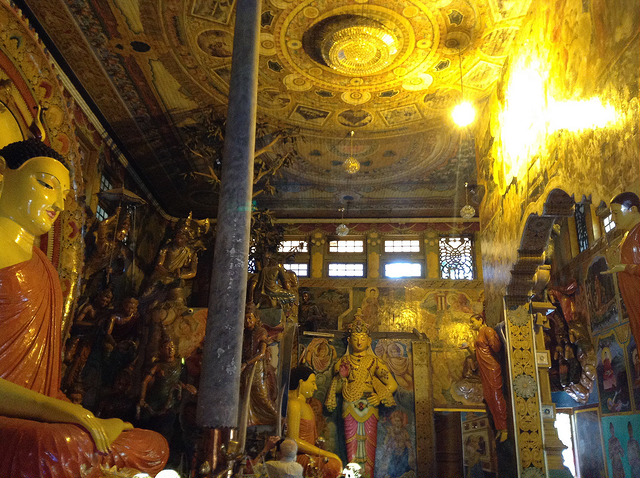 Hands down the best thing I saw in Colombo.
National Museum
I also went to the National Museum which is set in a beautiful building and has a lot of art as well as artifacts. I don't usually like museums that much as I find looking at old tools kind of boring but since there is art too it's enjoyable even for a non-museum lover.
Where to Stay in Colombo
The
Clock Inn Colombo
is nice clean hostel in a good location. I can't comment on how sociable it is as I arrived so late at night and was out most of the time but I would happily stay there again.
I should mention though that I booked an airport pick up through them for my arrival as I was getting in at 3am arriving from
India
where you have to be really careful about taxis as a solo female so I didn't want to risk getting in a car with a random stranger at that time in the morning. It was going to cost me more but seemed worth the couple of extra dollars for the peace of mind. The taxi didn't arrive however. It resulted in me having to buy a Sri Lankan SIM card in the airport to be able to call the hostel and waiting for 45 minutes (even though my flight was late) before giving up and getting another taxi. To the hostel's credit, they offered me a free night's accommodation when I came back through Colombo to make up for the inconvenience so it's likely an isolated incident. It actually made me like them more as it showed they recognised that it's not cool to just not show up, especially at that time in the morning. A lot of other hostels would just have shrugged and done nothing.
How Long to Spend in Colombo
A day is more than enough time to explore Colombo.
Moving On: How to get from Colombo to Hikkaduwa
Approx 2 hours by train.
Important Information about Trains in Sri Lanka
The trains are nice in Sri Lanka but the announcements are insanely hard to understand. I don't speak Sinhalese (the language of Sri Lanka) but you'd have thought picking out the name of your destination in the announcement would still be possible but it's not. Be sure to ask others on the train platform which train is yours so you get on the right one. And get on quickly. Seats fill up fast on the trains, even if you've booked 1st class. And all the fans are located by the seats so it makes for a VERY sweaty ride if you have to sit on the floor. I travelled in the third class carriage at times and felt perfectly safe, even though I'm a solo femal traveler, so I wouldn't worry too much about which section you get your ticket for.
« Back to Places
On to the Blog »
---
Get Your Essential Travel Gear