Bangkok
As I mention in the intro to
Thailand
, if you're traveling around South East Asia for a while you're likely to end up in
Thailand
a number of times because of where it's located. In particular that means you're likely to visit Bangkok a number of times and get to know it well. That's quite nice though. When you're traveling around, everything is always unfamiliar and new so actually if there is somewhere you keep passing through it can start to have a homely comforting feel to it. Bangkok in particular is good as a repeated stop through since it's very Western so for travel weary moments it's a great place to recharge.
I like to explore cities by walking round them where possible so I've always done most of my exploration of Bangkok by foot, which the below suggestions reflect.
The Grand Palace Bangkok
I walked here from Khaosan Road which isn't too bad a walk although it can be a little uncomfortable in the midday heat whilst dressed appropriately for the palace and temple (trousers and shoulders covered). They are really strict on the dress code at the Grand Palace and I saw women turned away who even had scarves they could put round their shoulders as that wasn't deemed to be sufficient. You have to have a shirt or long sleeved top.
The Grand Palace and temple are really impressive and very much worth a visit.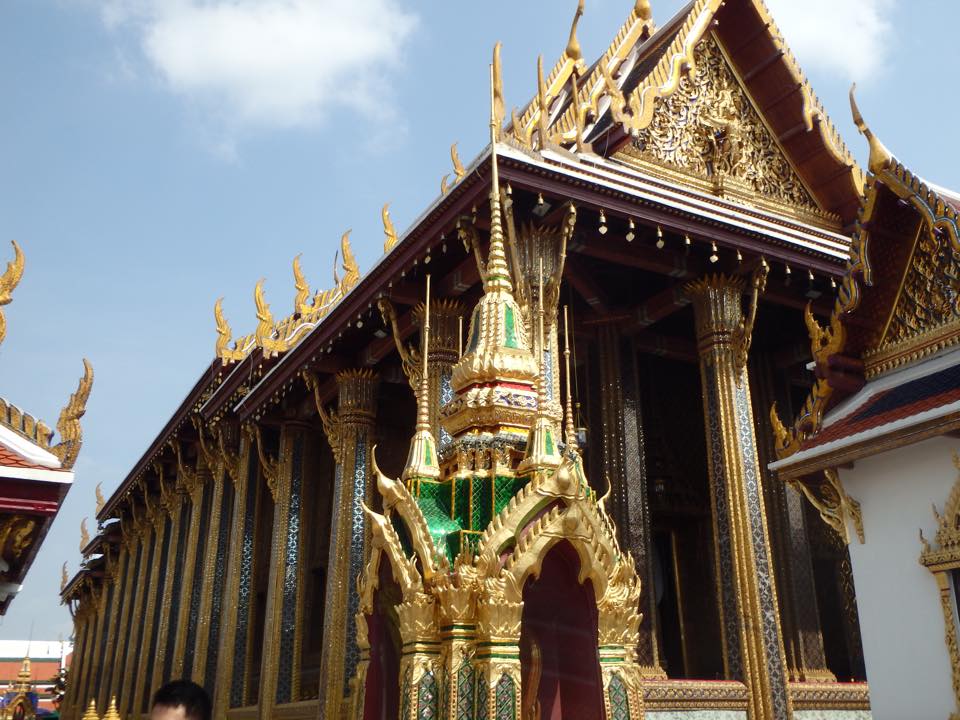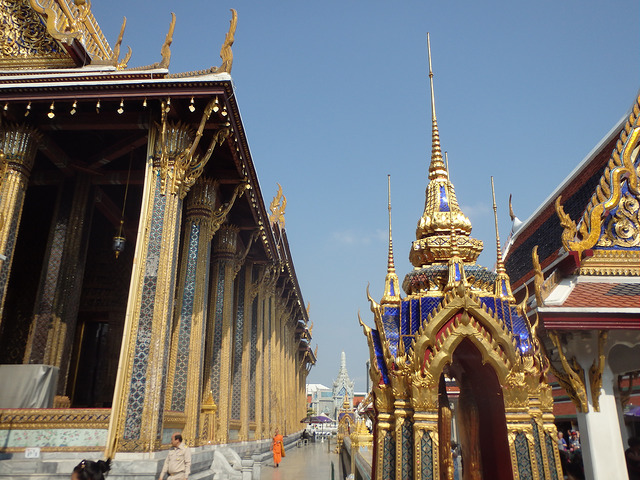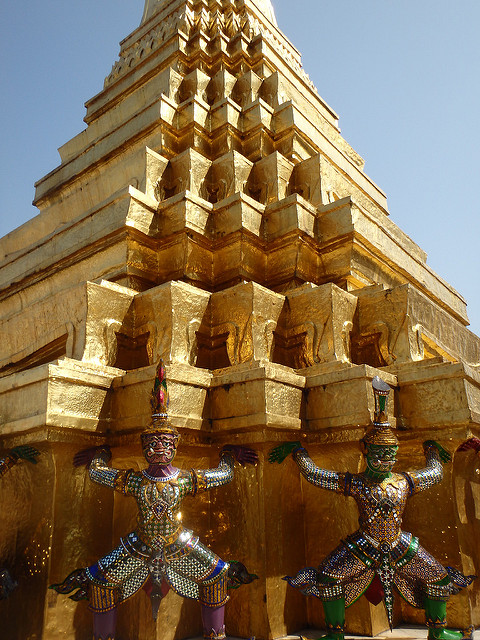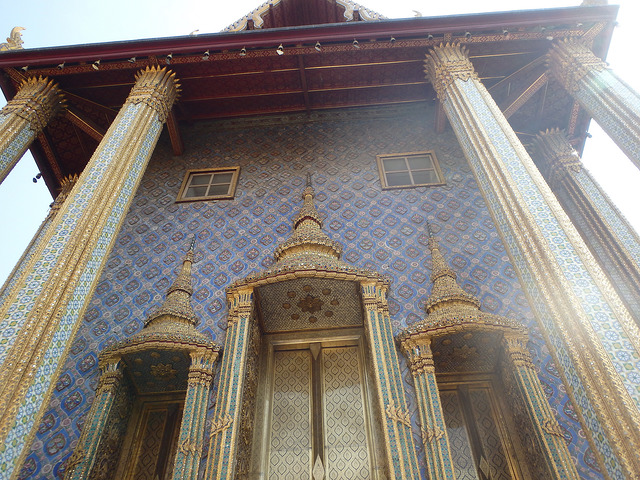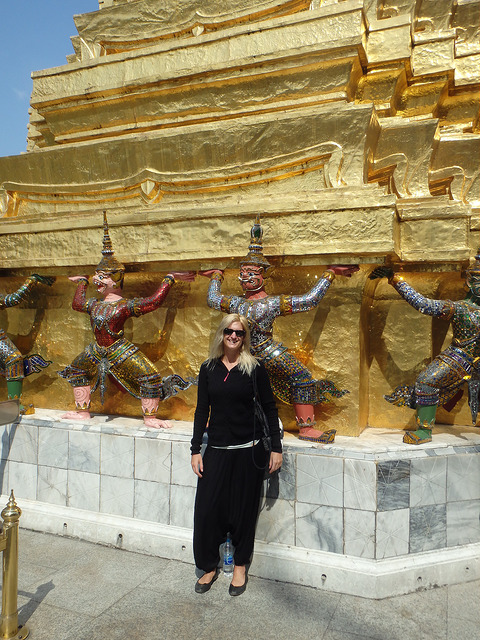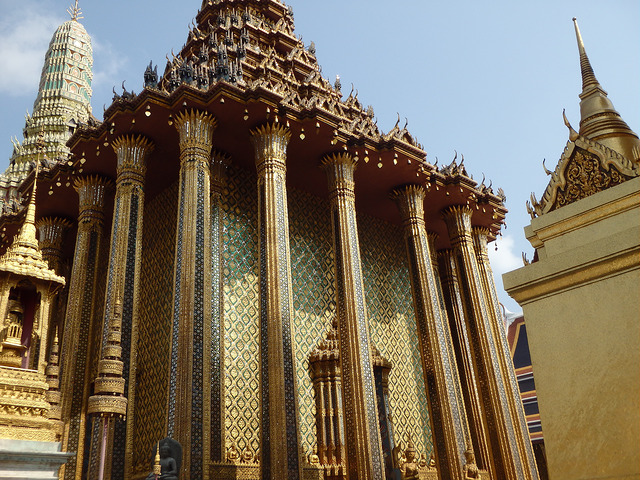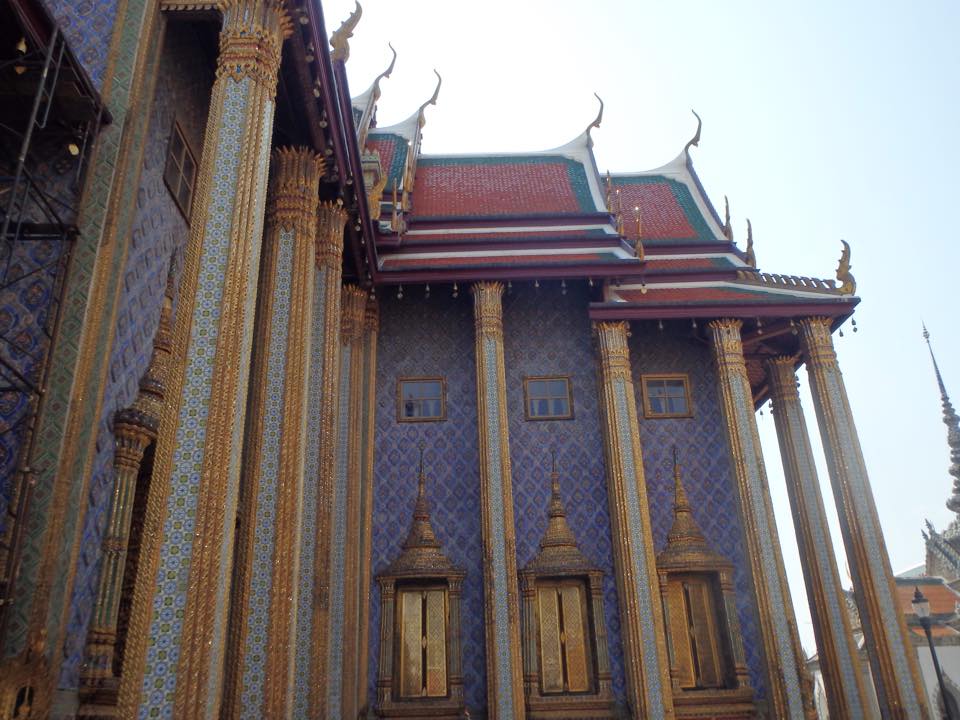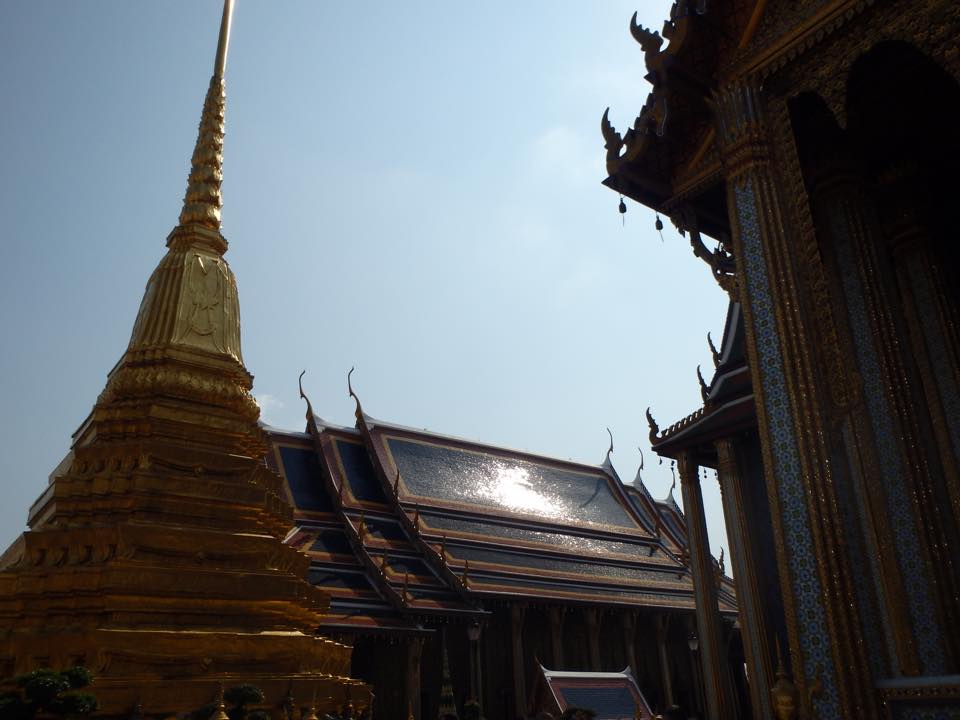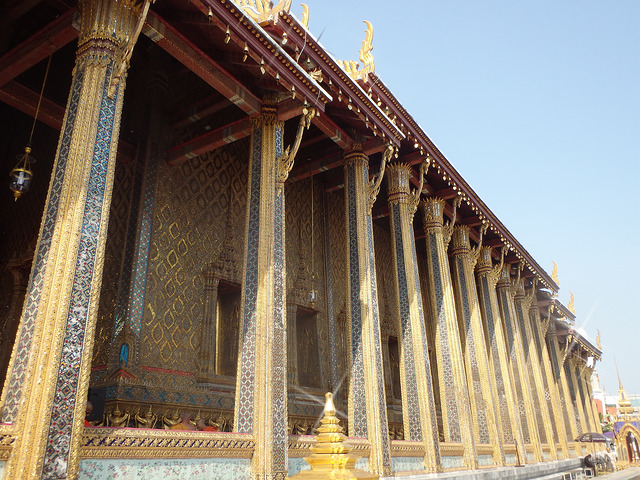 There are also a number of other smaller temples in the surrounding area of The Grand Palace which I had a look around afterward. If you just walk around the block outside the Palace you'll see a number of them.
Amulet Market
Heading towards the river and only a short walk from The Grand Palace is a Amulet market. The main thing sold there are amulets (statues of Buddha) but there are many food stalls as well in the periphery of the sprawling market. Since you're right by the river already at the market it's easy to get a boat from there to explore a little more of the city on water.
Khaosan Road
This is the most popular place with backpackers in Bangkok. It's so popular in fact some backpackers are starting to turn away from it now thinking it's become too touristy (which in all honesty it has but it's a fun and well located place to base yourself near).
If you've never been to
Thailand
before walking down Khaosan Road the first time is great. There's stall after stall of bustling street sellers with everything from clothes, to massages to food. And it's all really cheap (compared to Western Countries that is, it's actually quite expensive in comparison to some other places in Asia such as
India
or
Sri Lanka
). The first time I went to the Khaosan Road I didn't even know where to start on the shops! Along the Khaosan Road you can get good cheap street food for a pound or two or go into one of the many Western Asian fusion restaurants along the side of the street and have a sit down meal for not much more. There is usually a happy hour of some description in most of these restaurants too.
Khaosan Road is busy during the day but that's nothing in comparison to how it is at night. Khaosan Road is party central in the evening with bars overflowing right along the street. The below is from above Khaosan Road on one of the hotel roof tops early in the evening, before the craziness has properly kicked off.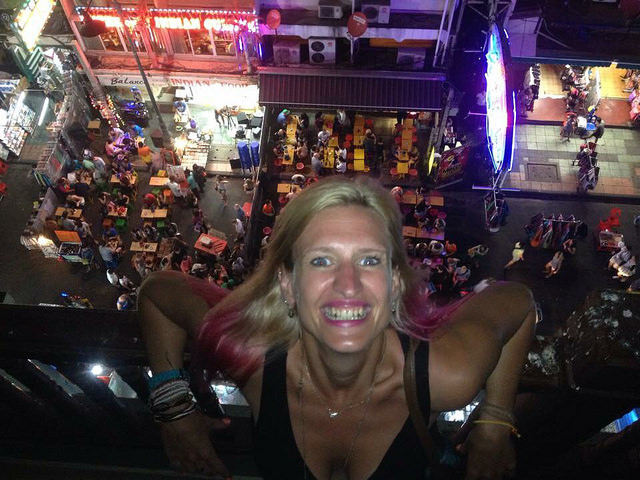 And this one's in the midst of the madness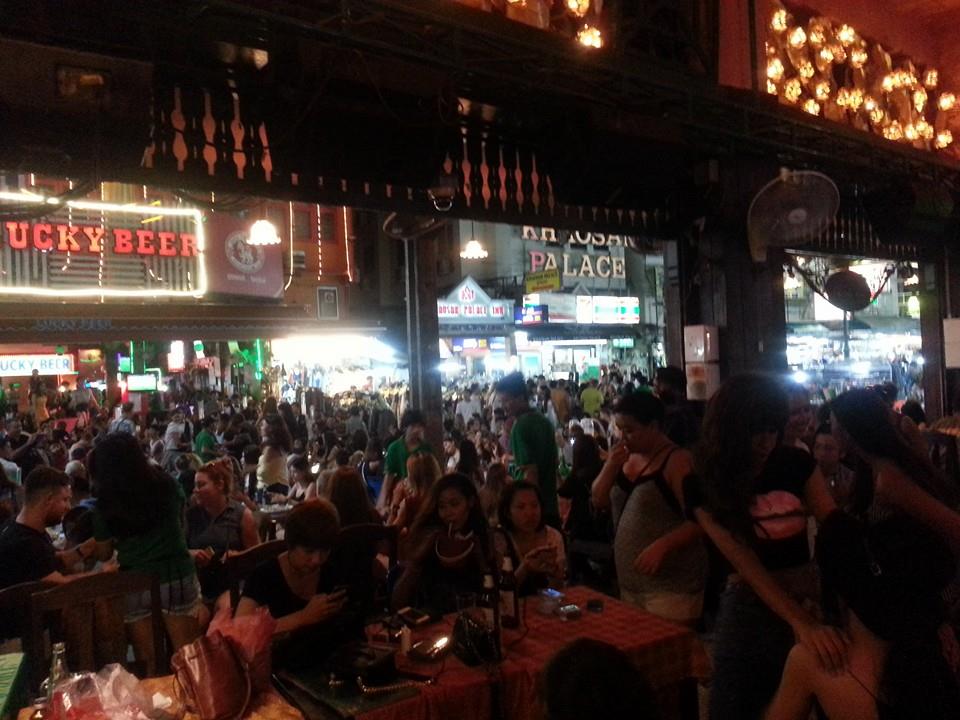 In Thailand drinks are frequently sold in buckets rather than just a glass. Along the whole of Khaosan Road you'll see loads of cheap deals for buckets and if works out a lot cheaper sharing those with friends than drinking beer.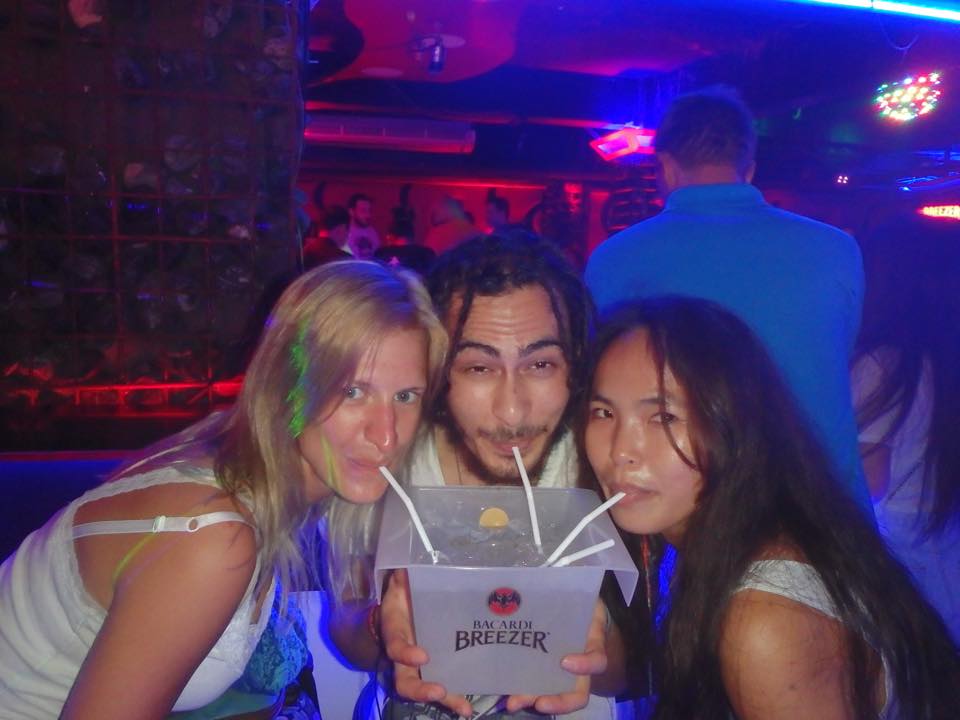 My first ever proper night out in Bangkok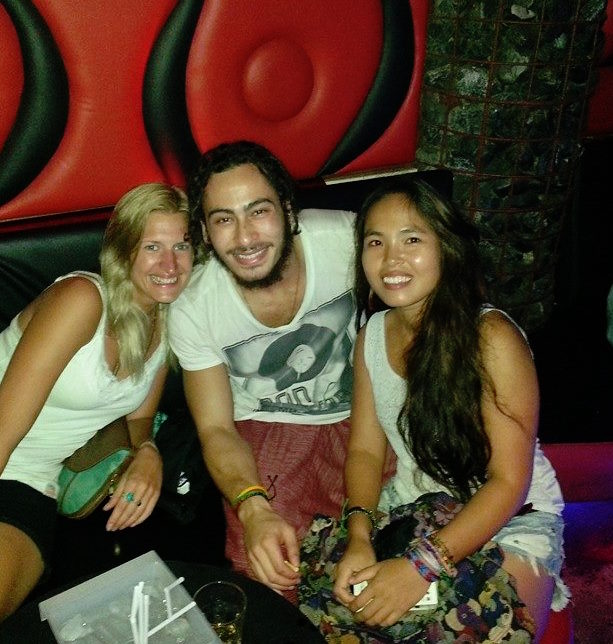 All the bars in Khaosan Road shut down at 1am so try not to go out too late or you won't have much of an evening. Given how many tourists there are in one small location and how drunk most people are in the evening it's hardly surprising that there is a lot of opportunistic crime on the Khaosan Road. Many find their wallets and phones taken from their trouser pockets or handbags. And trouble tends to occur if people walk down small alleyways whether than just be innocently or because they are intending to buy drugs or hire the services of a prostitute (P.S. Don't be a sex tourist, that's just not cool).
I enjoy the Khaosan Road. Yeah, it's busy and hectic and touristy but as long as your accommodation isn't right on it you can get away from it easily enough and still enjoy it when you want to.
I even spent my 29th birthday there.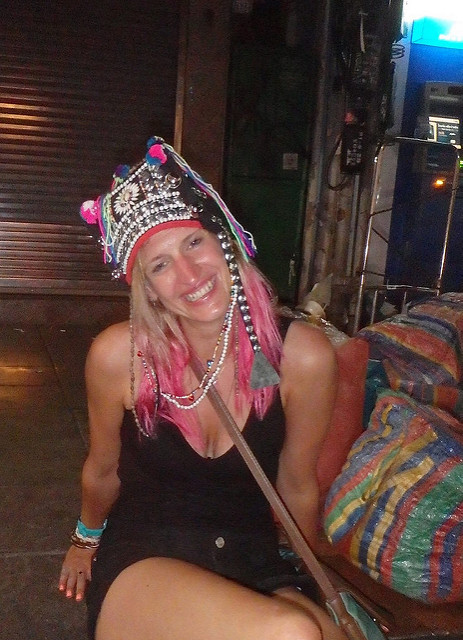 My birthday night on Khaosan Road
I did discover the day after this slightly drunk looking photo was taken that the Khaosan Road isn't a great place to be when hungover. You don't want to shop or drink so once you've eaten you've exhausted the three main activites on the Khaosan Road. Since it was my third time in Bangkok by the point at which this happened, I actually took myself off to the cinema in one of the big malls. That's what I mean about it being a good stop gap place. Want to watch a movie in English? Sure. Want to go shopping in a mall with brands you recognise form home? Sure. Need to get new electical items? Sure. It's all there and easy to get to.
Where to Stay in Bangkok
Everytime I go to Bangkok I stay at
Rest Inn Dormitory Guesthouse
now. It's located near Khaosan Road but not on it so it's quiet enough and within walking distance of a lot of sights in Bangkok. The dorm rooms have a lot of people in but they're really big and you all get your own lockable compartment that's large enough for all your possession and each bunk bed comes with a curtain you can close around it to you feel like you've got a bit of privacy.
Downstairs in the hostel is a restaurant which serves Thai, Western and also Indian food as the owners of the hostel are two brothers from India. The Indian food there is really good. I love Thai curry as much as the next person, but after two months in
India
I was occassionally missing Indian curry too so I really enjoyed being able to get a good Indian curry and naan there. The owners are also really sweet and very helpful with booking busses or organizing SIM cards etc. They even gave me a free beer on my birthday.
How Long to Spend in Bangkok
If you'll only be going through once I'd suggest two to three days to be able to explore properly.
Moving On: How to Get from Bangkok to the north or south of Thailand
If you want to go
north
after Bangkok I'd suggest
Chiang Mai
as a good next stop. It's an overnight bus ride to get there but the busses are so easy to use in
Thailand
. You can book them through most hostels and the bus companies will pick you up from your door.
If you want to go
south
after Bangkok you can buy a combined bus and boat ticket to get to the islands in the
south
, on both the west and east coast easily.
Lomprayah
are the company to book through for this but it usually requires a bit more planning than heading
north
due to the popularity of the routes. It is a REALLY long bus and boat journey so if you are planning in advance it's worth looking at flights which can be really cheap if you're flexible on dates. Be sure to check out
how to find the cheapest flights here
.
« Back to Places
On to the Blog »
---
Get Your Essential Travel Gear