Bagan
This is by far one of the best places I've been on my travels. The old town of Bagan is made up of over 2,000 buddhist temples. The only thing I've ever seen that's anything like it is
Angkor Wat
which is also incredible. Even if you've been to
Angkor Wat
already I'd still recommend going to Bagan Old Town. It has the same sort of feeling of stepping into a lost world however exploring it is a totally different experience as rather than having to rely on a tuk-tuk to take you from place to place like at
Angkor Wat
in Bagan Old Town you go between the temples on an eletronic bike so can explore at your own pace. There's a lot more variation in size of temple in Bagan too.
When booking the bus we'd been told it wouldn't arrive till something like 6am in Bagan, and I assumed they'd be late on that time but actually a lot of busses in Myanmar arrive early and we got in at about 4am. There's only one hostel in the town (that I'd booked a room in for the next night) so I shared a cab there with some other people from the bus.
The lady at the hostel would not budge on ANY form of early check in (we weren't expecting her to let us in at 4am but 10am seemed reasonable enough to try for).
A few of us decided, since we couldn't sleep anyway we might as well go to one of the temples that's know for being really great for sunrise.
Exploring the Temples in Bagan Old Town
We hired electronic scooters from the shop opposite our hostel which didn't seem like the best plan at the time given I'd never driven a
scooter
before and, although I'd slept well on the bus, was feeling somewhat out of it from the early morning but I genuinely don't know how you would get around there without one and it would be a long way on a push bike. Plus there's hardly any traffic so at least it's only really you you're putting at risk!
We got to the temple early which is advisable as it gets really busy so if you want a good view without having to look over 30 people's heads do the same.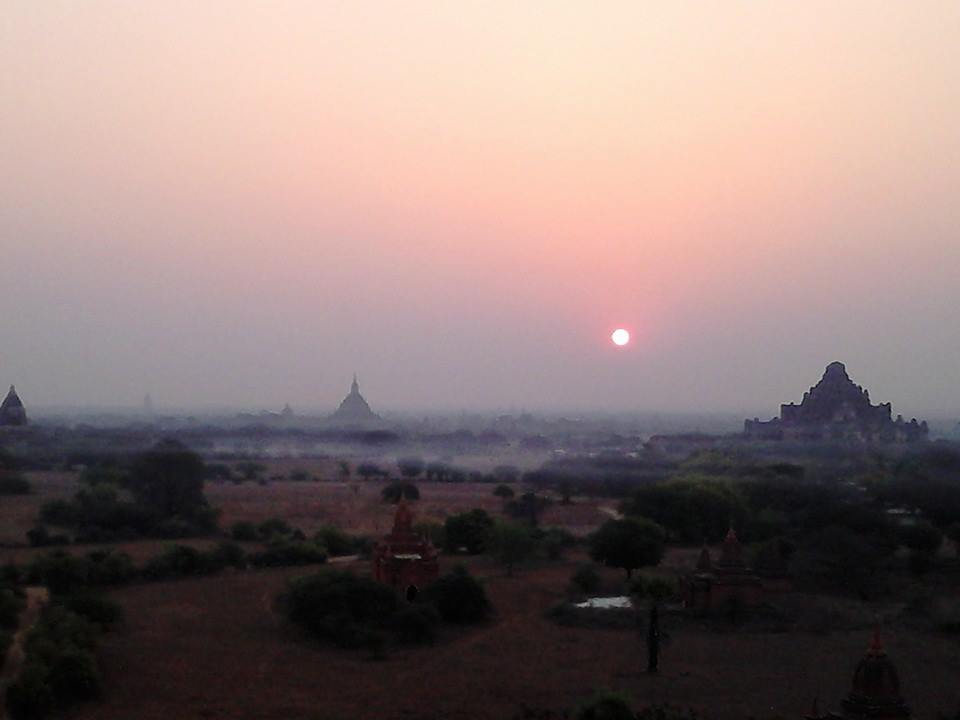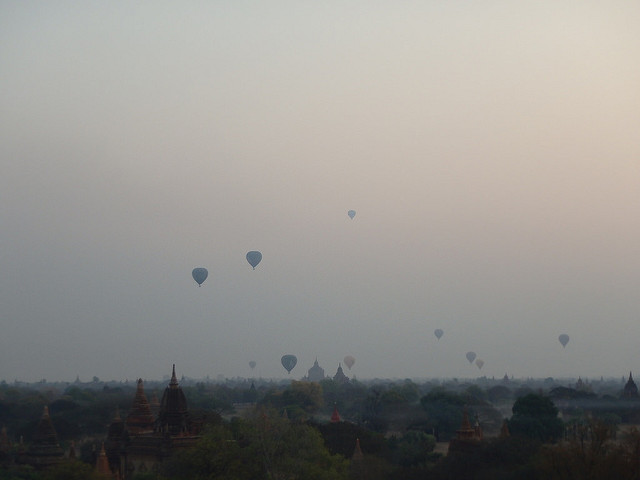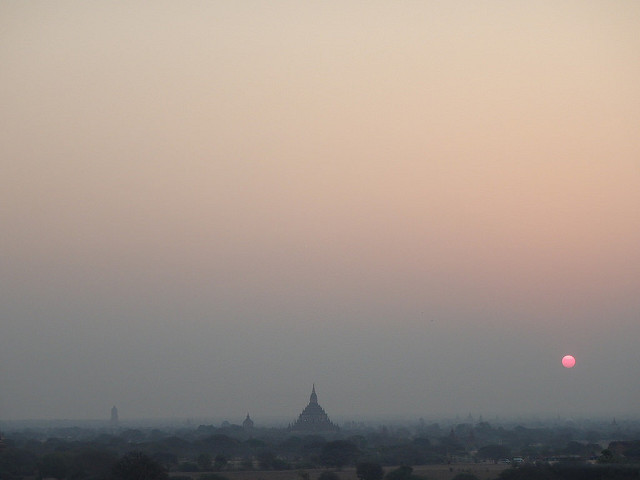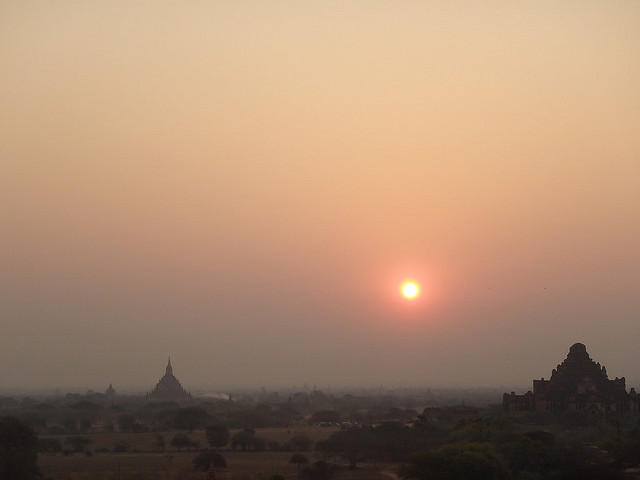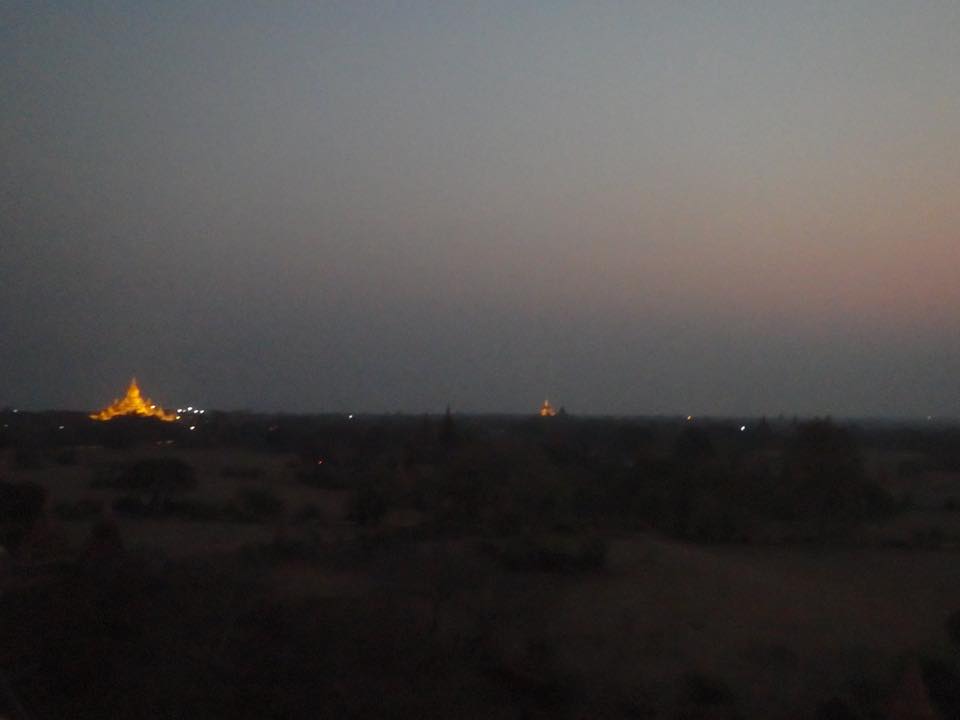 How Bagan looked when we first arrived at the main temple.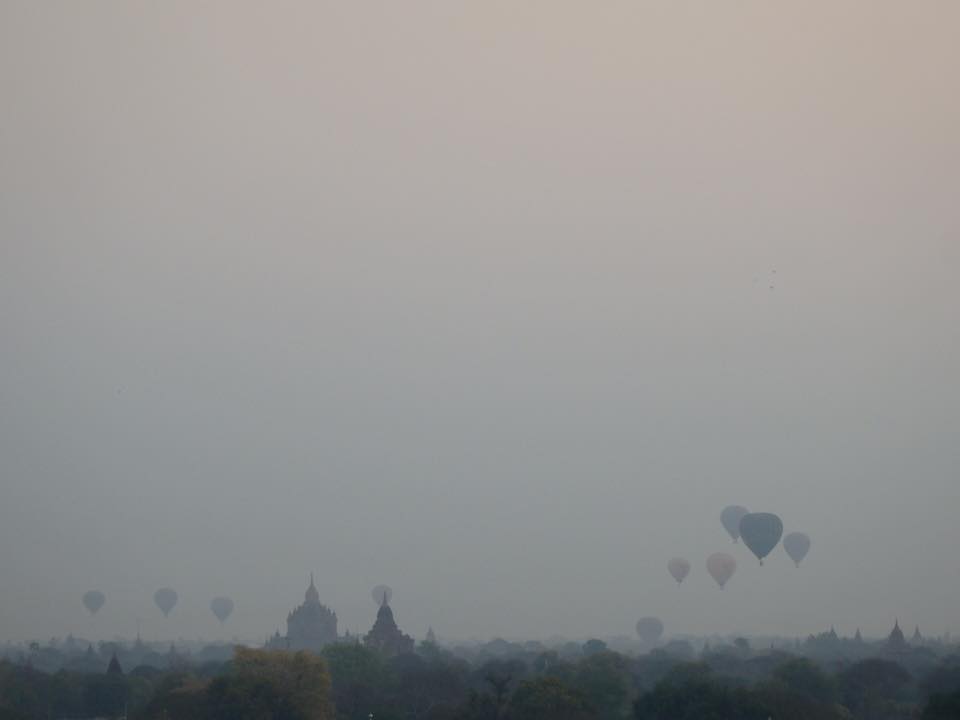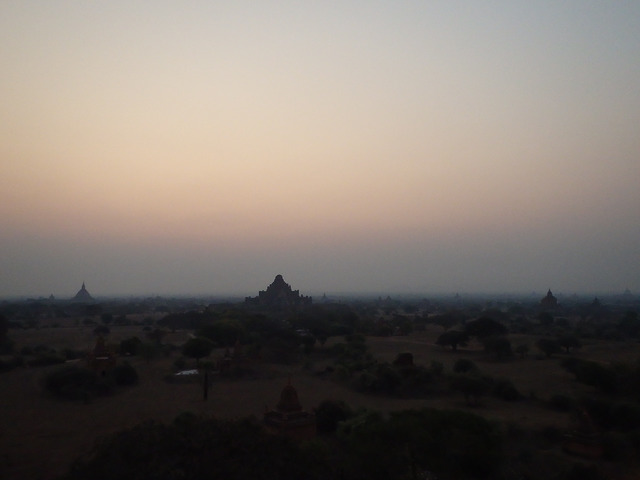 After that we all drove off to go explore, and literally you could get lost for days turning down all the little roads to see the different temples. They are incredible and there's a large variety to see. I lasted till about lunchtime going round and exploring but was a bit too tired after that.
Since I'd actually seen a lot of the temples from my 6 hours of driving round that morning , and didn't have a lot of time in Myanmar I tried to book a bus out for that evening to go to
Inle Lake
(I hadn't planned this but when asking around on where to go next this was by far the most recommended place by other travelers). The bus was fully booked for that evening and the next though so instead I had to opt for a non-VIP day time bus the next morning.
I spent the rest of the day asleep then went back to the temples for sunset with some of the people from my hostel.
And thank god I decided to go with others. I'd noticed earlier that the battery on my bike was starting to run low but I thought it would be enough to get me to the last temple and back but it wasn't. On the way home to our hostel the power suddenly died just as I was going up hill. The bikes have peddles too so I attempted to start peddling the bike like a push bike up the hill (they are a lot heavier than push bikes though so that's no easy task). As I was panting and sweating my way up the hill one of my tyres then blew out. Luckily I'd mentioned to the friends I was with that my bike was low on battery so although they'd gone on ahead one of them noticed I was no longer behind and swung back round to come find me.
I had thankfully decided to get a SIM card whilst in Myanmar, which was pretty useful for
Google Maps
and also when having to call hostels if going to be late or the like. It really came into its own here meaning I could call the bike rental shop and ask them to come help. Five minutes later two children who could have been no more than five and eight years old appeared with another bike ready to fix mine. They told me to take their bike as they went about fixing mine. I tired to explain that there was no battery so they would be stuck too but they said it was fine and insisted I went on my way. The bike rental place didn't charge me any extra for the repair, just accepted it like part of the usual course.
Where to Stay in Bagan
I stayed at
Ostello Bello Bagan
which is a lovely hostel (and from what I remember the only hostel in Bagan). It's expensive though. It's the same price I'd usually expect to pay for a hotel for a night ($23 USD) but in that area it's cheaper than the hotels and since there aren't really any other options, if you want to go there you don't really have a choice!
How Long to Stay in Bagan
Technically you could arrive early morning, see the temples and leave later that day. But that would require booking a bus out again in advance. If you can spare the time I'd suggest spending the night anyway. You'll have some sleep to catch up on!
Getting from Bagan to Inle Lake/Nyaung Shwe
The actual area you need to stay in, and get the bus to, for Inle Lake is called Nyaung Shwe.
I took the day time bus, as I mentioneded above, which was much less comfortable than the night time ones and a really sweaty experience. The bus companies pick you up from your accomodation and take you to where the busses depart from. I'd been warned in the next location that you'd want to buddy up with a few people to go on the boat rides with so instead of sticking my head in my book, as I usually spend most journeys, I made an effort to strike up conversation with the others going the same direction as me too . One of the other travelers was a cool Irish guy who hadn't booked any accommodation for Nyaung Shwe yet so he decided to check out my place when we arrived and stayed there too. We spent the next two days doing everything together and I think it would have been a lonely experience if we hadn't teamed up as it didn't seem like the easiest of towns to meet people in.
« Back to Places
On to the Blog »
---
Get Your Essential Travel Gear